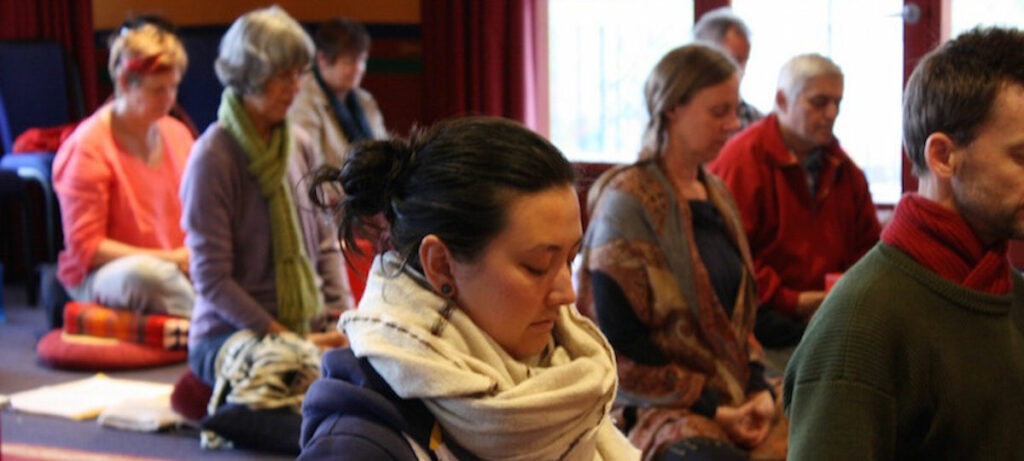 Come along and experience a free guided meditation session held every Sunday at 11am AEST (Australian Eastern Time – Sydney/Canberra time)!
You can attend these free classes in person or online via a zoom meditation session. Due to a limited number of people that can attend in person, please register to attend.
If you can't attend in person, you are welcome to join us for this online meditation session, that is led by either our Spiritual Director, Lama Choedak Rinpoche, or one of his senior students. Register for one of our upcoming sessions below to receive the zoom videoconference link to the class.
This guided meditation session for beginners will start at 11:00am AEST and usually runs for 40 – 45 minutes. During this time you will be given guidance in the meditation practice, that primarily focuses on the body posture and breath.
Practicing meditation has been scientifically proven to reduce stress, depression and anxiety, and can bring greater focus and awareness to our daily life – a completely natural method to a healthier mind, body and spirit.
Make sure you are ready when the meditation starts in a quiet space, free from distractions. You can meditate either sitting on a cushion on the floor, or in a chair.
There are no prerequisites for meditation; just a willingness to learn.
Following the meditation, there is a short talk on the meditation itself and/or Buddhist-related topics. Come along and experience the benefits of meditation – beginner's welcome!
These sessions are a great introduction before embarking on one of our 8-week calm abiding meditation courses, Buddhist teachings or retreats. Click here to find out about these courses. We look forward to meeting you soon.
Upcoming Free Meditation Sessions
---
Hint: If you don't see any free guided meditation sessions displayed, please contact us here and subscribe to email updates to be advised when the next sessions will be occuring.