Our resident monk Ven. Jamyang has provided the following translations of the following Dharma texts below.
Translation Downloads
The Jewelled Harp Of Captivating Poetry: A Praise To Sakya Pandita The Great – This is a devotional poem, once written by an obscure figure for Sakya Pandita (1182-1251), who was one of the founding fathers of the Sakya tradition. Click here to view and download this translation >>
About the translator: Ven. Jamyang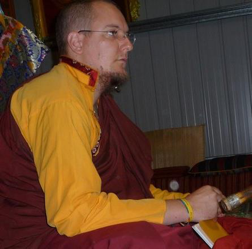 Upon finishing school at age 17, Jamyang (then known as 'Olly') developed an interest in learning Dharma languages. After living in Europe for a year and working in community services in Canberra for a year, he then started learning the elements of Sanskrit (at university) at age 19, Tibetan at age 20, and Pali at age 21.
In 2004, aged 22, he ordained as a novice monk in Sydney with a visiting abbot. He later went on to earn a 'Diploma of Languages' in Sanskrit from ANU in 2015.
Since then he has continued his academic studies, majoring in English literature and Philosophy. He continues to volunteer in his Dharma community, both as a 'Lochung' (apprentice translator) and committee member.