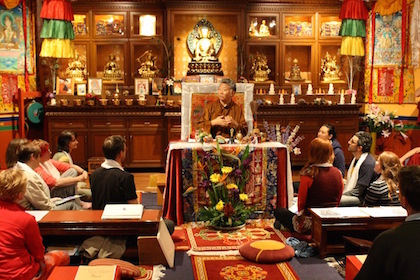 Sakya Losal Choe Dzong (SLCD), the Tibetan Buddhist Society of Canberra was founded in 1989 by Lama Choedak Rinpoche in Canberra. SLCD is one of the most established Buddhist centres in Australia. Being aligned with the Sakya tradition of Tibetan Buddhism, SLCD is under the patronage of His Holiness Sakya Trizin and His late Eminence Chogye Trichen Rinpoche.
The Society's activities have been dedicated to making available to the public the wisdom teachings of the Buddha and the Buddhist practices of meditation. Through Lama Choedak Rinpoche's spiritual directorship the practice of Calm Abiding Meditation, Ngondro preliminaries, White Tara, Vajrayogini and Hevajra have all been promoted over the last twenty years.
On this website you will be able to find out details of the varied activities of the society and Lama Choedak Rinpoche including it's programme of retreats and classes at centres such as Rongton Buddhist College in Canberra, and SIBA Retreat Centre in Victoria.
SLCD is affiliated with many centres around Austalia and New Zealand and meditation classes, workshops and residential retreats are regularly conducted at these. On this website you can find out what activities are coming up here >>