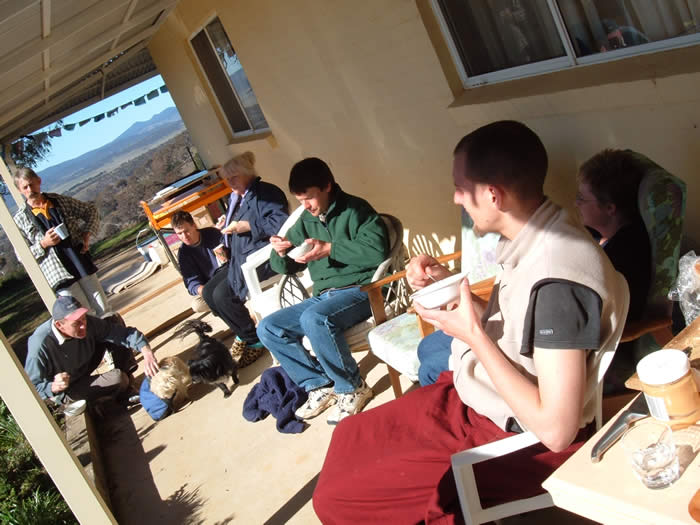 Buddhist communities called Sangha have existed since the time of the historical Buddha 2,600 years ago. Sakya Losal Choe Dzong, the Tibetan Buddhist Society of Canberra, is one of the most established and active Buddhist centres in Australia.
SLCD is a harmonious community of ordained and lay sangha whose togetherness exists primarily because of their common bond and affinity with the Dharma. Taking out membership is a wonderful way to show your support for the continuation of the activities of our Society and being part of a Buddhist community.
Everyone is welcome to become a member of the Society with the knowledge that you are continuing to help preserve the precious teachings of the Buddha.
Entitlements
As a member:
You will receive discounts on retreats, classes and workshops at our various centres;
You can vote at the Society's Annual General Meetings as well as stand for nomination to the Executive Committee;
You receive regular updates about our events, classes, and news from our centre by post and email.
Fees
Membership fees go towards production of the Society's newsletter as well as general administrative costs and other overheads. Membership fees are:
General – $100
Concession – $50 (full time student, unemployed or in receipt of a social security pension or benefit)
Family – $150
Life – $1500
General, Concession and Family membership is valid for one year. Membership can be taken out at any time of year for the full twelve month period.
Governance
The Society is a registered not-for-profit organisation under the Associations Incorporations Act 1991 of the Australian Capital Territory. The governing body of the Society is it's members. The objectives of this Society shall be to endeavour by all lawful means:
To promote peace and the nonviolent Buddhist way of life.
To promote social harmony and mutual understanding among all people by establishing and maintaining interreligious dialogue.
To preserve and promote the Tibetan culture in general and the teachings and practices of the Sakya School of Tibetan Buddhism in particular.
To facilitate in schools, colleges and universities the study of Buddhist philosophy, the study of the Tibetan language and the translation of Tibetan Buddhist texts.
To construct an institution for the study of the Buddhist way of life and the Tibetan language, culture and history.
To offer assistance in educating and otherwise nurturing Tibetan refugee children through sponsorship programs.
Committee
Committee
The committee meets regularly to discuss the affairs of the society and members are welcome to attend and contribute. The Executive Committee is elected from amongst it's members at the Annual General Meeting, usually held around the end of May each year. Members are notified in advance of the date of the meeting in writing, are welcome to attend and are eligible to vote and nominate for positions on the Committee.
Volunteering
We welcome volunteers. The society functions through the goodwill of all those directly and indirectly helping its activities. Please let us know if you can help with –
Cooking
Cleaning
IT
Administration
Transcribing and editing
Maintenance and buiding
Gardening
Or any other skills
If you are interested in contributing to the centre please get in touch here >>