Looking for a place to learn Buddhism and meditation in Canberra? Our Canberra Buddhist centre is the oldest and most established center for Buddhism in the region.
NOTE: Rongton Buddhist Training College has moved premises! Our new address in Canberra is now Level 2B, Grant Cameron Community Centre, 27 Mulley Street, Holder ACT 2611.
Please check our What's On page for the latest dates, courses and events that are running. We hope to see you at Holder soon!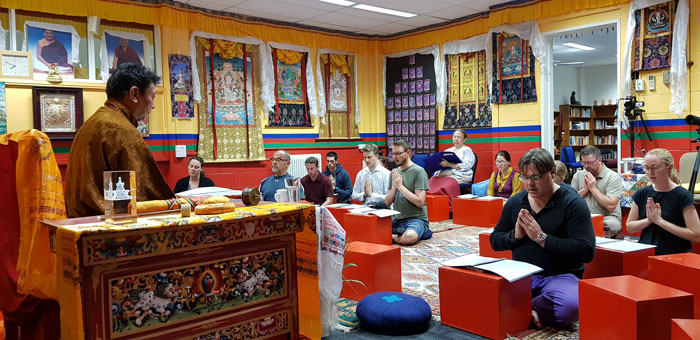 Rongton Buddhist Training College, is the main venue for the Tibetan Buddhist Society of Canberra's regular activities throughout each school term. Our program includes:
Regular meditation and teachings on Buddhist philosophy,
Lama Choedak Rinpoche leads traditional Tibetan Buddhist meditation practices such as the practice of Avalokiteshvara, the Bodhisattva of Compassion each Wednesday,
Every Sunday at 11am throughout the year we hold free introductory meditation sessions with one of our senior students.
Tibetan Language classes are regularly held on Wednesday afternoons throughout the school term.
Other workshops, courses, and practices are also held at the college from time to time.
We also have a Buddhist shop at our centre which is one of the only places in Canberra you can buy Buddhist books, Tibetan singing bowls, Tibetan prayer flags and other Buddhist ritual items.
Check out our upcoming program of events and our regular classes by visiting our What's On page >>
Contact Details:
Phone +61 2 6238 2088
Or send us an email via this contact form here >>