SPECIAL EVENT: Lamdre - with His Holiness the 42nd Sakya Trizin
We are delighted to announce that His Holiness the 42nd Sakya Trizin will give a one-week Lamdre teaching known as Lamdre Jochakma at SIBA this year. This will be the first time that this teaching will be taught by the Head of the Sakya Lineage outside of Tibet.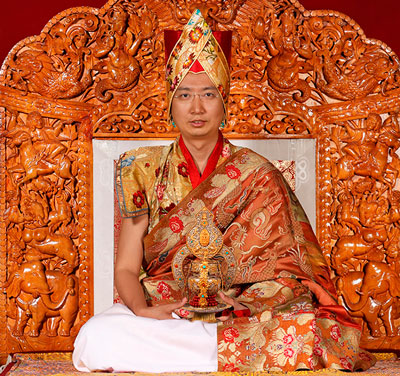 Special Event with H.H. Sakya Trizin:
Lamdre at SIBA 2019
The most unique and special teaching of the Sakya Tradition
In the Sakya Lineage of Tibetan Buddhism, the Lamdre teachings are considered the very brightest jewel. They are the most profound of all meditation instructions, covering all of the Buddha's teachings of the path to enlightenment (tib: ལམ lam) and the resulting awakening that occurs (tib: འབྲས dre). Thus, the Lamdre teachings are described as 'combining the path with its result'. This unique, non-dualistic view of the Buddhist path has attracted the very brightest scholars, wisest practitioners and most devout followers for over a thousand years.
An Unbroken Lineage from India
The Lamdre lineage began with the Indian Tantric Master Virupa, who received detailed instructions from Vajra Nairatmya after 70 years of Buddhist meditation, study and contemplation. It was around 1100 A.D. that these precious instructions came to Tibet through Gayadhara, eventually being transmitted to Sachen Kunga Nyingpo, the founder of the Sakya school of Tibetan Buddhism. Through the tireless work of each successive lineage holder of the Sakya school, these precious and peerless teachings remain alive, in an unbroken and traceable lineage, right up to the present day.
This Lamdre transmission is being given by the head of the Sakya lineage, His Holiness the 42nd Sakya Trizin
The current holder and head of the Sakya Lineage is His Holiness the 42nd Sakya Trizin, Ratna Vajra Rinpoche. We here at SLCD are absolutely delighted to announce that His Holiness has accepted our request to bestow the Lamdre teaching in Australia. Not only are we extremely blessed to have the head of the Sakya lineage bestow these teachings to us, but it is also the very first time His Holiness himself will give the Lamdre since his enthronement in March 2017. To be able to hear these sacred teachings from the warm breath of His Holiness is a rare and special event.
This event is specifically tailored for the Australian audience: a concise, English transmission  
Rarer still are the features of this particular Lamdre hosted by SLCD. Traditionally given only in the Tibetan language, this Lamdre will be transmitted wholly in English by His Holiness. This is a seismic cultural and ritual shift within the Sakya school, illustrating the importance of making these sacred teachings accessible, understandable and importantly, able to be practiced and contemplated by the English-speaking Sangha. The Lamdre has only been given in English a handful of times across the world, so to have the opportunity to hear these teachings in our own language is close to a historical first.  
In addition, this Lamdre offered by His Holiness and SLCD will be given as a concise teaching over one week. Traditionally, the Lamdre teachings take place over six weeks, this long form includes thorough biographies of lineage masters and re-teaching of each session given every afternoon. Understanding that such a lengthy attendance may be difficult for many, His Holiness has agreed to give this succinct, essential version of the Lamdre transmission. This one-week form of the teachings is how the great master Sachen Kunga Nyingpo gave the Lamdre to his two sons, Sonam Tsemo and Jetsun Dakpa Gyaltsen, three founding members of the Sakya tradition.
Places are Limited
One unshakable tradition within these teachings is that each Lamdre empowerment is restricted to a certain number of practitioners. Each empowerment session is limited to 25 people who have not received Lamdre empowerments before. Because of this ritual restriction, we cannot overstate how limited places are for this event. It is essential that you do not delay in booking to ensure you are able to attend.
---
FURTHER INFORMATION

Booking and Accommodation Options:
Book before 9 March 2019 to receive an 'early bird' discount!
All accommodation at SIBA will be same-sex shared dormitory accommodation. There are limited disability-friendly rooms available. 
If you require your own private room, we have compiled the following list of accommodation options within driving distance from SIBA:

We aim to make our pricing as inclusive as possible. There are substantial discounts for ordained Sangha members; please contact us at siba@sakya.com.au for more details. Also, please contact us if you are in financial hardship and would like to attend. We will do our best to make sure you can attend.
Also, if you are able to 'sponsor' the tour to cover the costs of the event or help others to attend, your kindness is very much appreciated. Please click here for more information.

What you will receive:
All booking types include a daily vegetarian lunch (you can indicate any food allergies on our website when you book your place). Those who are staying at SIBA also have breakfast and dinner included in their booking price. 
Every booking price includes a copy of the Bodhisattva Vows, the short Hevajra Sadhana and a copy of Lamdre: Dawn of Enlightenment written by Lama Choedak Rinpoche. 
What you will need to bring:
The empowerment and subsequent commitments require you to own a vajra, bell and damaru. If you do not own these, there will be some available for you to purchase at SIBA. 
Further questions:
We are here to help! Please email us at siba@sakya.com.au with any questions you have. 
When
9th April, 2019 2:00 PM through 16th April, 2019 5:00 PM
Location
SIBA Retreat Centre




2592 Gelantipy Rd




W Tree

,

3885




VIC

,

Australia
Event Fee(s)
| | |
| --- | --- |
| Event Fee | |
| Shared SIBA Accomodation (rate per person) | $ 1,000.00 |
| Camping (rate per person) | $ 850.00 |
| Retreat only (No accomodation) | $ 750.00 |
| Member/Concession Discount | $ -50.00 |
| Would you like to become a benefactor for His Holiness Sakya Trizin's visit? | |
| Bronze Benefactor | $ 200.00 |
| Silver Benefactor | $ 400.00 |
| Gold Benefactor | $ 1,000.00 |
| Platinum Benefactor | $ 5,000.00 |
Event terms and conditions
| | |
| --- | --- |
| Enable terms and Conditions Acceptance | |
| | |
| --- | --- |
| Checkbox Position | Top profile |
| | |
| --- | --- |
| Checkbox text | I accept the Terms & Conditions |
| | |
| --- | --- |
| Terms and Conditions File | |
| | |
| --- | --- |
| Link Label | Terms & Conditions |
| | |
| --- | --- |
| Introduction | Please read and accept the terms &conditions and our Data Policy. |
Event Extra Details
| | |
| --- | --- |
| General Location | SIBA Retreat Centre, VIC |
| | |
| --- | --- |
| Teacher | His Holiness the 42nd Sakya Trizin |