This event's registration is now closed. Please send an email to
[email protected]
if any questions. Pilgrimage was greatly encouraged by the Buddha as an effective means to cleanse and purify one's karma and deepen one's spirituality. At the repeated request, Lama Choedak Rinpoche has kindly agreed to lead a pilgrimage again in 2023.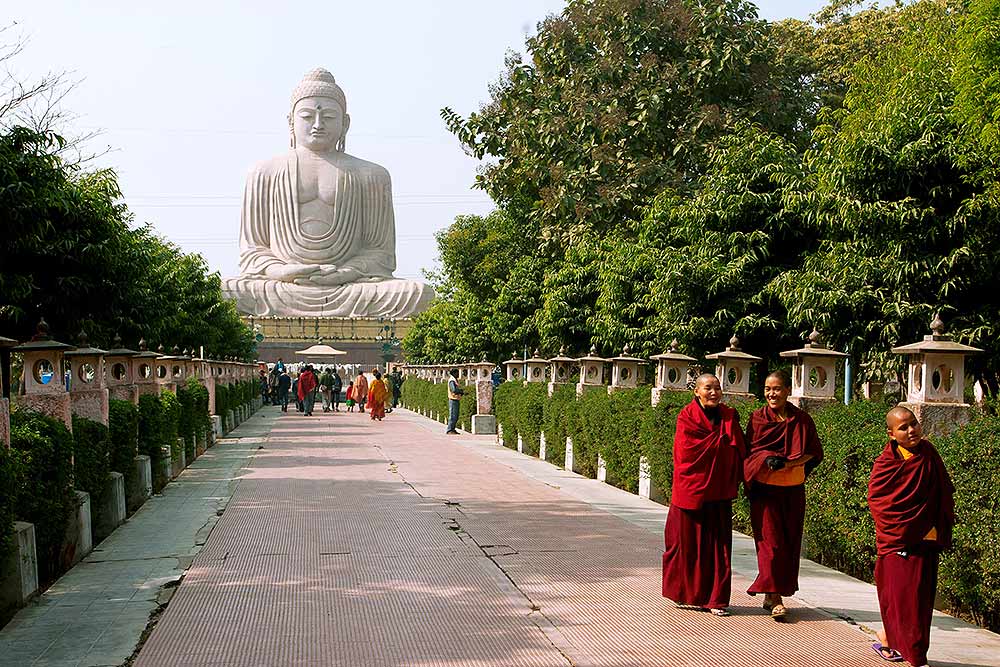 The main pilgrimage will cover seven of the eight holy sites in India and Nepal. On most days there will be group prayer & meditation and short teaching either by Rinpoche or by another teacher. We will meet many important teachers and people on the journey.
As is the tradition with Buddhist pilgrimage we will be visiting seven of Eight Holy Sites that were indicated by the Buddha.
Below is the itineraries' tentative draft.
Date
Destination
Additional Information
Nepal
2 Dec 2023
Arrive Kathmandu (3 nights)

Swayambu Nath Stupa – the "Self Arising" stupa, overlooking Kathmandu valley

Bodh Nath Stupa, Kathmandu - Tibetan refugee enclave in Kathmandu and the monastery and holy relics of His Eminence Chogye Trichen Rinpoche as well as IBA (International Buddhist Academy)

5-6 Dec 2023

Pokhara (2 nights)

Tashi Paikhel and World Peace Pagoda, Pokhara - Tibetan Settlement where Rinpoche grew up
7 Dec 2023
Lumbini (1 nights)
Birthplace of the Buddha (Nepal close to the border with India).
India
8 Dec 2023
Kushinagar (1 nights)
The site of Buddha's passing into Mahaparinirvana.
9 Dec 2023 
 Shravasti (1 night)
Shravasti is also known as the site of Twin Miracle since Lord Buddha showed his supernatural abilities in performing miracles.During the time of the Gautama Buddha, Shravasti was thought to be one of the six major towns in ancient India.
10-14 Dec 2023
 Dehra Dun (5 nights)
After escaping from Tibet in 1963 and established in Dehradun, the Tibetan community started the construction of a Buddha Temple which was completed in 1965. Buddhist Temple is a Tibetan monastery also famous as Mindrolling Monastery. Buddha Temple is actually a replica of a Monastery which is situated in Tibet.
15-16 Dec 2023
Varanasi (2 nights)
Where Buddha first turned the Wheel of Dharma (Uttar Pradesh Province, on the outskirts of the ancient holy city of Varanasi (Benares) on the banks of the Ganges);
17 Dec 2023
Vaishali (1 night)
Site where Buddha ordained women and announced his passing away
18 Dec 2023
 Rajgir (1 nights)
On Vulture's Peak Buddha taught Heart Sutra.
19-22 Dec 2023
 Bodh Gaya (4 nights)
Where the Buddha attained enlightenment (Bodhi Tree);
The pilgrimage is very well organised and Rinpoche-la has much experience leading these tours. A more detailed itinerary and other travel advice and information including what to prepare, what to expect and what to being will be provided closer to commencement.
Accommodation is usually of a very good quality with breakfast included. Land transportation is in private air-conditioned buses. There will be four domestic air flights including a spectacular scenic flight of the mighty Himalayas. In general, accommodation, food and transport are always improving with every pilgrimage that Rinpoche-la has lead over the last 30 years or so.
The estimated fee of the pilgrimage is AUD$4,500 excluding international airfare.
What this DOES COVER is:
4 star or 5 star hotel twin share accommodation for 20 nights (Single rooms will cost extra)
Breakfast
Domestic flights
All land transport
Entrance fees to all historic/museum sites
airport transfers
welcome buffet dinner and farewell buffet dinner
tipping to coach driver(s) and conductor(s)
bottled drinking water
What the pilgrimage fee DOES NOT COVER is:
International flights (to Kathmandu/from Delhi)
Travel insurance
meals apart from breakfast
Spending money and other personal expenses
All profits from this pilgrimage go towards fundraising for the SLCD's STUPA TEMPLE OF PEACE project in Canberra.
You will need to make your international flight booking and visa arrangements. Thai Airlines fly out of Bodh Gaya to Bangkok.
You need at least six months validity on your passport. If you are planning on coming and your passport expires before May 2024, you need to renew it now.
You will need to apply for your India tourist visa in your country of nationality. Nepal issues 15 day tourist visas upon arrival in Kathmandu airport.
Rinpoche's pilgrimage tours are very popular, and will be offered only to those who join the pilgrimage early. As there is alot to organise and there will be a limit to the size of the group. Those who are interested need to confirm their arrangements as soon as possible. You do not have to be Buddhist to join this trip. 
A deposit of AUD$500 must be paid upon registration. Now is the time to register and pay your deposit.
If you are undecided but are interested, please contact us now to help with tentative arrangements. You will be kept on an email contact list with updates.
When
2nd December, 2023 12:00 PM to 22nd December, 2023 12:00 PM
Location
India and Nepal
Australia
Event Fee(s)
| | |
| --- | --- |
| Pilgrimage 2023 - Deposit only | $500.00 |
| Pay the entire pilgrimage cost in a single transaction | $4,500.00 |
Event terms and conditions
| | |
| --- | --- |
| Enable terms and Conditions Acceptance | |
| Checkbox Position | Top profile |
| Checkbox text | I accept the Terms & Conditions |
| Terms and Conditions File | |
| Link Label | Terms & Conditions |
| Introduction | Please read and accept the terms &conditions and our Data Policy. |
Event Extra Details
| | |
| --- | --- |
| General Location | Other |
| Teacher | Lama Choedak Rinpoche |