This annual meditation retreat is one of the longest running and most popular held in Australia.
**SPECIAL NOTE** - Due to the Covid 19 Lockdown, the 25th Annual 10 Day Meditation Retreat can now be offered online with part time attendance as an option in the comfort of your own home - click here for more details and to book for the part time option >>
Meditation helps change undesirable habits and improve self-confidence, adding a touch of dignity and sacredness to our lives. It has a proven record in its ability to improve health, transform negative situations and awaken happiness and give a clear perspective on life. Calm Abiding Meditation can help you become relaxed, focused and peaceful. It enables you to identify the real causes of unhappiness and recover from stress, anxiety and tension.
To learn to meditate you need an experienced teacher and a well-defined path. Lama Choedak Rinpoche is a master of Calm Abiding Meditation having undertaken extensive retreat in the Tibetan Buddhist monastic tradition and taught in the west for many years. His profound explanation of meditation and its everyday relevance is renowned for its lucidity, authenticity and humour. His teachings are offered from the heart, spiced with the richness of his experience, dedication and realisation.
Retreat is the best method for learning the technique and tools of meditation. SIBA is a beautiful and friendly Buddhist retreat centre in the Snowy River Country of East Gippsland. The consecrated land, surrounding nature, comfortable accommodation, delicious food and the welcoming and relaxed atmosphere provide the perfect support for an enjoyable and successful retreat experience. This year we are also offering the option to attend online via Zoom videoconferencing for those that can't make it to SIBA.
Newcomers to meditation will find the instruction clear and meaningful while experienced practitioners discover new tools for engaging with their meditation practice that they did not have before.
Lama Choedak Rinpoche will give the empowerment of Avalokiteshvara, Bodhisattva of Compassion and impart the instruction on this daily sadhana practice and the recitation of the mantra OM MANI PADME HUM.
Participants who complete the 10 day retreat can stay on for the three day Train the Trainer retreat - an intensive training program to be able to facilitate 8-week Calm Abiding Meditation Courses. 
Watch the YouTube clip of the 2012 SIBA 10-day Calm Abiding Meditation Retreat.
All are welcome to attend on ZOOM and in person at SIBA. There will be a limited number of spaces to attend the retreat in person, so please book online early to avoid disappointment.
About Lama Choedak Rinpoche: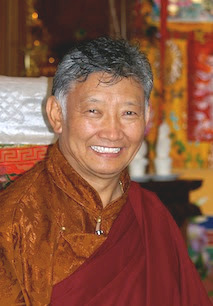 Born in Tibet, Rinpoche was raised under the tutelage of His Eminence Chogye Trichen Rinpoche. After completing a rigorous 12-year monastic training in the Sakya order of Tibetan Buddhism, Rinpoche graduated from a three and a half year solitary meditation retreat sponsored by His Holiness the Dalai Lama.
As a highly acclaimed translator, Rinpoche has translated for some of the highest Tibetan Buddhist masters of all four traditions. Living in the West for 20 years he is the founder and spiritual director of over a dozen centers in Australasia.
He has been teaching Buddhism and meditation in the west for over fifteen years, and a frequent visitor to the Mid North Coast over the past several years. 
His Eminence Chogye Trichen Rinpoche conferred upon him the title of "Rinpoche" (precious one) in recognition of his Buddhist activities in Australia. Rinpoche has an excellent command of English and a deep understanding of the Western mind. His teachings are lucid, practical and enjoyable.
Note: Details of the ZOOM meeting (relevant if you will be doing the retreat from your home) will be sent to you upon registration. 

When:    24th September - 15th October 2021 (Starts 6pm on the 24th of September and finishes 2pm on the 15th of October)
Where:  SIBA Retreat Centre East Gippsland OR remotely from your own home via ZOOM videoconferencing   
Inquiries: Call us on 03 51550329 for any information or if you need to work out how to get to SIBA.
 
When
24th September, 2021 6:00 PM through 4th October, 2021 2:00 PM
Location
SIBA Retreat Centre




2592 Gelantipy Rd




W Tree

,

3885




VIC

,

Australia
Cost:
| | |
| --- | --- |
| Booking Options | |
| Online Retreat Attendance via Zoom videoconferencing | $ 600.00 |
| Shared ensuite room - up to 4/room | $ 1,000.00 |
| Camping - byo tent or caravan | $ 800.00 |
| Single - private room | $ 1,750.00 |
| Twin/double - private room for 2 (rate per person) | $ 1,400.00 |
| Click here if you qualify for a members or concession discount | $ -50.00 |
Event terms and conditions
| | |
| --- | --- |
| Enable terms and Conditions Acceptance | |
| | |
| --- | --- |
| Checkbox Position | Top profile |
| | |
| --- | --- |
| Checkbox text | I accept the Terms & Conditions |
| | |
| --- | --- |
| Terms and Conditions File | |
| | |
| --- | --- |
| Link Label | Terms & Conditions |
| | |
| --- | --- |
| Introduction | Please read and accept the terms &conditions and our Data Policy. |
Event Extra Details
| | |
| --- | --- |
| General Location | SIBA Retreat Centre, VIC |
| | |
| --- | --- |
| Teacher | Lama Choedak Rinpoche |