Nyung-Ne Compassion Meditation - Virupa Retreat Centre
A traditional Tibetan Buddhist fasting and meditation practice for powerful purification. This retreat will comprise 1 set of the Nyung-Ne practice. Note: This year's Nyung-Ne retreat will be held at Virupa Retreat Centre, Carwoola NSW.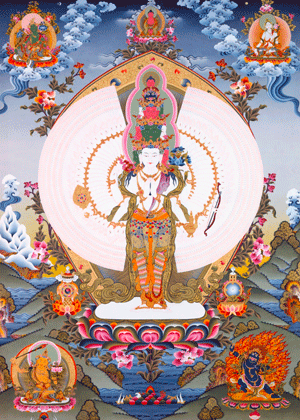 The practice of Nyung-ne is a fundamental traditional Buddhist practice that combines discipline and meditation to help us purify our negativities and develop wise compassion. In the Buddhist context, compassion is a positive response based on a deep understanding of suffering and the causes of suffering.
The basic aim of the practice is to purify negative karma by abstaining from (1) killing, (2) stealing, (3) sexual activity, (4) telling lies and (5) drinking or taking any intoxicants - these are the five Buddhist precepts. In addition to these five, one also abstains from (6) eating meat and eating after midday, (7) singing, dancing, playing music, wearing perfumes and (8) sitting on high seats. Noble silence is also observed throughout, though it is not one of the precepts. 
The Mahayana stresses the importance of dedicating one's fasting and prayer for the benefit of all sentient beings. When Vajrayanists observe the eight precepts for two days, together with the compassion meditation of Avalokiteshvara practice, they call it 'Nyung Ne'.
One takes the precepts in combination with twelve or more hours of devotional practices including prostrations, meditation and chanting of mantra and long dharani of Avalokiteshvara. One also observes a fasting regime where one abstains from eating after lunchtime on the first day of practice, and on the second day one abstains from both eating and drinking. The dry fast is broken at breakfast on the third (final) morning.  
In terms of the three remedies taught by the Buddha, observing the eight precepts is the discipline component; meditating in the form of Avalokiteshvara is the meditation component; and coming to understand the merit in following these practices is the wisdom component. In skilfully combining devotional practices with the eight precepts, Nyung Ne accentuates the effective restoration of wholesome qualities and purification of unwholesome deeds.
This retreat is offered free of charge, including meals and shared (single-sex) accommodation, however participants must register to attend.
When
21st May, 2021 6:00 PM through 23rd May, 2021 5:00 PM
Location
Virupa Retreat Centre




179 Douglas Close




Carwoola

,

2620




NSW

,

Australia
Attendance Options:
| | |
| --- | --- |
| Attendance Options | |
| Stay overnight at Virupa Retreat Centre | $ 0.00 |
| Day attendance only (no accomodation) | $ 0.00 |
Event terms and conditions
| | |
| --- | --- |
| Enable terms and Conditions Acceptance | |
| | |
| --- | --- |
| Checkbox Position | Top profile |
| | |
| --- | --- |
| Checkbox text | I accept the Terms & Conditions |
| | |
| --- | --- |
| Terms and Conditions File | |
| | |
| --- | --- |
| Link Label | Terms & Conditions |
| | |
| --- | --- |
| Introduction | Please read and accept the terms &conditions and our Data Policy. |
Event Extra Details
| | |
| --- | --- |
| General Location | Virupa Retreat Centre, NSW |
| | |
| --- | --- |
| Teacher | Lama Choedak Rinpoche |