ONLINE 10-day Calm Abiding and Clear Light Insight Meditation RETREAT
This annual meditation retreat with Lama Choedak Rinpoche is one of the longest running and most popular held in Australia. Due to causes and conditions, this year's retreat will be offered online via ZOOM. The meditation and teaching sessions will be a combination of Calm Abiding, Clear Light and Insight Meditation techniques, which many participants will appreciate.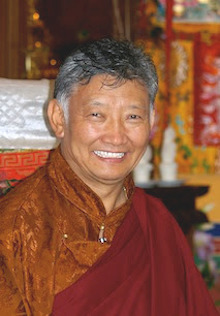 *Note: Due to the Covid-19 pandemic we are offering the retreat in an online format this year.*
About this online retreat:
Meditation helps to change undesirable habits and improve self-confidence, adding a touch of dignity and sacredness to our lives. It has a proven record in its ability to improve health, transform negative situations and awaken happiness and give a clear perspective on life. 
Calm Abiding Meditation can help you become relaxed, focused and peaceful. It enables you to identify the real causes of unhappiness and recover from stress, anxiety and tension. If one can fathom the deep and profound use of special insight meditation based on solid calm abiding techniques, it can clarify all problems with the practical application of the Emptiness Yoga of single AH meditation, that will be explained in detail in this special online retreat.
You will receive expert instruction from Lama Choedak Rinpoche: an experienced teacher whose eloquent teachings, explanation and guided meditation will empower you with a good discipline and a great experience. 
Lama Choedak Rinpoche is a master of Calm Abiding Meditation having undertaken extensive retreats in the Tibetan Buddhist monastic tradition and has taught meditation in the west for thirty  years. His profound explanation of meditation and its everyday relevance is renowned for its lucidity, authenticity and humour. His teachings are offered from the heart, spiced with the richness of his experience, dedication and realisation. His systematic guidance on Clear light and Special Insight meditation has been carefully tested to suit all levels of practitioners.

This retreat is the best method for learning the technique and tools of both the calm abiding & special insight systems of meditation. You can do this online retreat in the comfort of your own home. Note: you will need to set up your room with the quality of solitude in order to bring the practice into your everyday life. It is important that you have a dedicated space for the retreat so that you won't be interrupted during the sessions. 

Lama Choedak Rinpoche will also give the empowerment of Avalokiteshvara, Bodhisattva of Compassion and impart the instruction on this daily sadhana practice and the recitation of the mantra OM MANI PADME HUM. This allows everyone to attend the evening Avalokiteshvara Sadhana practice held throughout the retreat and learn how the two systems of meditation covered in this 10 Day program are holistically unified - and therefore appreciate the profundity of the Vajrayana style of meditation.
Daily Retreat Schedule:
NOTE: The early morning, Q & A and evening practice sessions are optional for those who cannot attend them. The main guided meditation and teaching sessions are between 8.30am to 5.00pm.
Friday 25th September 
7.00pm - Introductory session (Compulsory)
9.00 - Sleeping Yoga
Daily Schedule (unless indicated otherwise) - main sessions in bold
Morning:
6.00 - Private Prayers and Practice Session
7.30 - Break
8.30 - Teaching on Calm Abiding meditation Session
10.30 - Break
11.00 - Clear Light/Insight Meditation Session
Afternoon
12.30 pm - Lunch
1.30 - Teaching on Clear Light/Insight Meditation Session
3.00 - Break
3.30 - Combination of Calm Abiding the Insight Meditation
5.00 - Break
6.00 - Q and A Session
Evening

7.00 - Break
7.30 - Avalokiteshvara Sadhana (Sat: Empowerment Ceremony)
9.00 - Sleeping Yoga
NOTE: The early morning, Q & A and evening practice sessions are optional for those who cannot attend them. The main guided meditation and teaching sessions are between 8.30am to 5.00pm.
 
When
25th September, 2020 7:00 PM through 4th October, 2020 5:00 PM
Event Fee(s)
| | |
| --- | --- |
| General Admission | $ 600.00 |
| Members/Concession | $ 550.00 |
| Discounted rate | $ 250.00 |
Event terms and conditions
| | |
| --- | --- |
| Enable terms and Conditions Acceptance | |
| | |
| --- | --- |
| Checkbox Position | Top profile |
| | |
| --- | --- |
| Checkbox text | I accept the Terms & Conditions |
| | |
| --- | --- |
| Terms and Conditions File | |
| | |
| --- | --- |
| Link Label | Terms & Conditions |
| | |
| --- | --- |
| Introduction | Please read and accept the terms &conditions and our Data Policy. |
Event Extra Details
| | |
| --- | --- |
| Teacher | Lama Choedak Rinpoche |