ONLINE RETREAT: HOW TO TRANSFORM YOUR PROBLEMS - Vajrapani Empowerment and Teachings
In this special weekend retreat of teaching and practice sessions with Lama Choedak Rinpoche, you will receive the empowerment, transmission and comprehensive teachings on the Vajrapani Sadhana practice.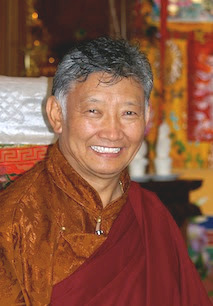 The four-armed Vajrapani meditation is a unique Vajrayana visualisation meditation combined with mantra recitation.
As all Vajrayana meditation practices are a union of calm abiding and special insight meditation, it is a very profound technique, which removes most of the gross hindrances meditators face for doing silent meditation - dullness and distraction.
Vajrapani meditation is especially taught as a removal of all physical, emotional, negative energy and spiritual obstacles.
In this retreat one will receive the empowerment, instruction on the practice, Sadhana practice material and guided meditation sessions. All are welcome.
The empowerment will be given on the first evening (Friday, 5th June) and the teaching and practice sessions will occur on the following days (see schedule below).
If you haven't received the Vajrapani empowerment before, it is compulsory to attend the empowerment on the Friday evening. Otherwise, you won't be able to attend the rest of the retreat.
This teaching does not occur very often, so if you have not received this before, then this is your chance to take part. There is no pre-requisite to attend this retreat.
Once you register, you will be given the link to join the sessions via Zoom. We are happy to assist you if you haven't used this technology before.
**If you haven't received this practice before and require a copy of the Sadhana practice for the retreat, please contact us and we will email you a copy of the sadhana.**
SCHEDULE:
Friday 5 June 2020
6.00pm - 7.00pm Introductory talk
7.30pm - 9.00pm Vajrapani Empowerment
Sat 6 - Sun 7 June 2020
9.00am - 10.30am Discourse
10.30am - 11.00am Break
11.00am - 12.30pm Sadhana Practice session
12.30pm - 1.30pm Lunch Break
1.30pm - 3.00pm Discourse
3.00pm - 3.30pm Break
3.30pm - 5.00pm Discourse
Monday 8 June 2020
9.00am - 10.30am Sadhana Practice session
10.30am - 11.00am Break
11.00am - 12.30pm Discourse
There will be Q and A after every practice session.
When
5th June, 2020 6:00 PM through 8th June, 2020 12:30 PM
Location
Online Workshop
Australia
Cost:
| | |
| --- | --- |
| General Admission | $ 200.00 |
| Members/Concession | $ 180.00 |
Event terms and conditions
| | |
| --- | --- |
| Enable terms and Conditions Acceptance | |
| | |
| --- | --- |
| Checkbox Position | Top profile |
| | |
| --- | --- |
| Checkbox text | I accept the Terms & Conditions |
| | |
| --- | --- |
| Terms and Conditions File | |
| | |
| --- | --- |
| Link Label | Terms & Conditions |
| | |
| --- | --- |
| Introduction | Please read and accept the terms &conditions and our Data Policy. |
Event Extra Details
| | |
| --- | --- |
| Teacher | Lama Choedak Rinpoche |