COMPLETE PATH: 10-Day Complete Path (TCP) - Townsville
Tharlam Ling Buddhist Centre in Townsville will be hosting a repeat teaching by Lama Choedak Rinpoche of the second year of The Complete Path (TCP) course.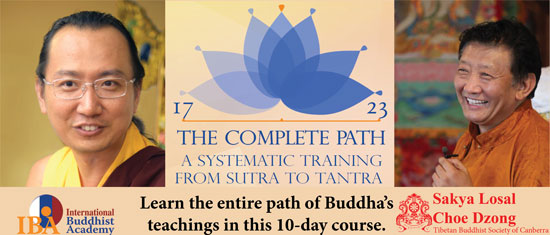 The International Buddhist Academy (IBA) in Kathmandu has launched this global training program that encompasses teaching the Buddhist path in the Sakya tradition in its entirety. Called The Complete Path, this unique 7-year program has been devised to provide Dharma practitioners of all levels of experience a systematic training focused mainly on the theory and practice of the Vajrayana path as transmitted by the founding masters of the Sakya school of Tibetan Buddhism.
== == == == ==
*UPDATE* - Lama Choedak Rinpoche has confirmed that this course is open to everyone. Even if you haven't completed the 1st year of the Complete Path course you are still welcome to attend the second year.
If you wish to study the material from year 1 (optional), an online course is available as a substitute if you were unable to attend the Year 1 teaching on Clarifying the Sage's Intent. For details, click on this link: http://internationalbuddhistacademy.org/2018-2/online-course-for-tcp-year-1-available-in-english-and-chinese/
Year 2 of the Complete Path will focus on Ngorchen Khonchog Lhundrup's The Beautiful Ornament of The Three Visions, which is one of the most important texts in Sakya tradition which prepares a practitioner to receive the higher levels of teachings such as Lamdre.
At the end of each year's course, participants who have completed all previous years will receive a certificate (note that you can still attend this year of the course regardless). A special certificate will be awarded to participants for completion of the full 7-year program.
== == == == == ==
Tharlam Ling Buddhist Centre, Townsville has sourced a modern, unused convent for this years TCP course. The convent is fully air-conditioned, includes a handful of bedrooms with a large living room, kitchen, dining area and chapel (a great area to study).
There are 2 options for attending the TCP -
OPTION 1 - TCP + Accommodation $900*
- TCP course for 10 days
- Lunch supplied for 10 days (please provide your own breakfast and dinner)
- Private bedroom at the convent, shared kitchen, showers, and toilets
- This a great option for those who are flying-in and won't have vehicle transportation
*please note there are limited rooms in the convent, so please book your space ASAP, if this is your preferred option.
OPTION 2 - TCP + without Accommodation $700
- TCP course for 10 days
- Lunch supplied for 10 days (please provide your own breakfast and dinner)
- Accommodation options (you will need to book this yourself)
- Source your own e.g. AirBnB or
- Book at Riverside Convention Centre (7th Day Adventist Accommodation)
- TCP Text Book
Once you have confirmed your spot, we will send textbook details so you can order and purchase them as soon as possible. Stocks are limited and taking approximately 4 weeks for shipping.
TCP Payment
Please make a $200 deposit to secure your TCP spot by Friday 4th January 2019.
To register, make a payment or to find out more information about TCP or Accommodation, please email Phil Heang
When
21st March, 2019 9:00 AM through 30th March, 2019 5:00 PM
Event terms and conditions
| | |
| --- | --- |
| Enable terms and Conditions Acceptance | |
| | |
| --- | --- |
| Checkbox Position | Top profile |
| | |
| --- | --- |
| Checkbox text | I accept the Terms & Conditions |
| | |
| --- | --- |
| Terms and Conditions File | |
| | |
| --- | --- |
| Link Label | Terms & Conditions |
| | |
| --- | --- |
| Introduction | Please read and accept the terms &conditions and our Data Policy. |
Event Extra Details
| | |
| --- | --- |
| General Location | Townsville |
| | |
| --- | --- |
| Teacher | Lama Choedak Rinpoche |