At SIBA, Family Week is a time and place for us to spend consciously with our families, caring for one another and ourselves, sharing, giving, and having fun.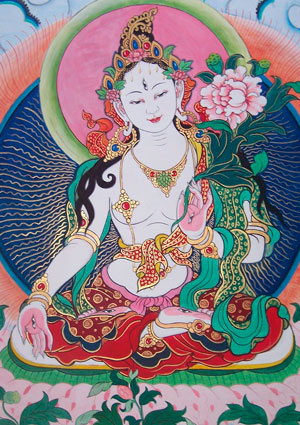 Great news!
The 'White Tara /Family Retreat' has returned to SLCD calendar for January 2024. This popular retreat is a great opportunity to bring together Parents and youngsters for five days of dharma.
Parents can focus on their study and practice under the guidance of Lama Choedak Rinpoche while their youngsters get to enjoy the nurturing environment at SIBA retreat centre.
SIBA is a place to naturally relax and enjoy yourself in the space and freedom, just being here is a unique healing experience to give to ourselves. 
There will be adult supervision with plenty of activities including Dharma storytelling, games, music, damper making and campfires. Depending on fez ability, we can also visit Buchan Caves. Rinpoche will also spend time with the group. The White Tara side of the retreat will happen as usual. 
Rinpoche has been requested to teach about how to 'Understand Karma in Family Life' to help us integrate our practice in day-to-day life.
There will be plenty of opportunities for adults to attend or help out with the youngsters group. Hope you can take this opportunity to keep the Buddha Dharma alive through the next generations.
Please note that children under the age of five can stay free of charge if they are accompanied by an adult carer or parent and share a bed with a parent.
When
25th January, 2024 6:00 PM to 29th January, 2024 1:30 PM
Location
SIBA Retreat Centre




2592 Gelantipy Rd




W Tree

,

3885




VIC

,

Australia
Event Fee(s)
| | |
| --- | --- |
| registration option: | |
| 2 Adults - 2 Children - 1 Private room (rate for 4 people) | $1,040.00 |
| 2 Adults - 1 Child - 1 Private room (rate for 3 people) | $880.00 |
| 1 Adult - 1 Child - Twin/double - 1 Private room for two (rate for 2 people) | $520.00 |
| 1 Adult - Shared ensuite room - upto 4 people per room (rate for 1 person only) | $360.00 |
| 1 Child 5 years of age or above - room shared with Parent/Carer | $160.00 |
| Camping - byo tent or caravan - 2 Adults - 2 Children (rate for 4 people) | $880.00 |
| Camping - byo tent or caravan - 2 Adults - 1 Child (rate for 3 people) | $760.00 |
| Camping - byo tent or caravan - 1 Adult - (rate for 1 person) | $320.00 |
| Camping - byo tent or caravan - 1 Child - sharing with Parent/Carer | $120.00 |
| Member/Concession discount | -$50.00 |
Event terms and conditions
| | |
| --- | --- |
| Enable terms and Conditions Acceptance | |
| Checkbox Position | Top profile |
| Checkbox text | I accept the Terms & Conditions |
| Terms and Conditions File | |
| Link Label | Terms & Conditions |
| Introduction | Please read and accept the terms &conditions and our Data Policy. |
Event Extra Details
| | |
| --- | --- |
| General Location | SIBA Retreat Centre, VIC |
| Teacher | Lama Choedak Rinpoche |