White Tara practice represents the feminine energy of the Buddhas infinite compassion. She is said to have originated from the tears of the deity Avalokiteshvara when he wept about the extent and intensity of the suffering experienced by all beings. This Retreat will be held in person at SIBA and online via Zoom.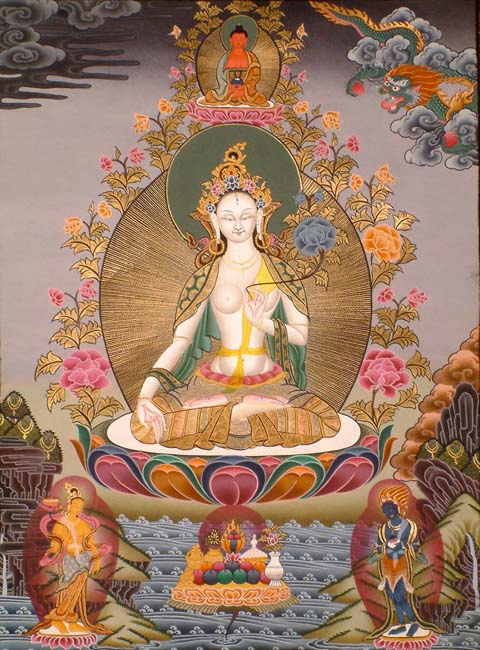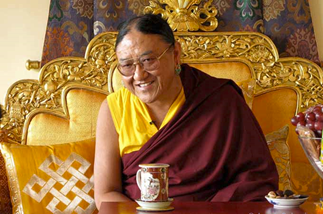 To be eligible to attend participants must make a commitment to attend the whole retreat.
We are fortunate to be able to receive the Six-Domed White Tara Empowerment online from HH Sakya Gongma Trichen Rinpoche. Receiving this White Tara empowerment will provide an opportunity for students to boost their practice and experience. There will be ample practice and teaching sessions. Lama Choedak Rinpoche will offer remarkably thorough explanations of the symbology of the practice as well as its everyday relevance.
All basic Buddhist meditation techniques will be included in the practice, with special emphasis placed on the creative visualisation meditations of Vajrayana Buddhism. Lama Choedak Rinpoche's realisation, dedication and experience are transmitted through the heart-warming atmosphere in which this retreat is conducted, as well as the joy and humour he brings, particularly in the question-and-answer sessions.
Schedule for Retreat
Day 1 Friday 21 January 2022
  6.00          Registration / Room Allocation/ Orientation
  7:00          Dinner
  8:00          Introductory Session
  9:30          Sleeping Yoga
Day 2 Saturday 22 January 2022
  6:00          Preparatory Teaching on White Tara Empowerment
  7:30          Breakfast
  9:00          White Tara Empowerment Ceremony With HH Sakya Gongma Trichen
10:30          Tea Break
11:00          White Tara Teaching
12:30          Lunch Break
  2:00          White Tara Practice Session
  3:30          Break
  4:00          White Tara Teaching
  6:00          Dinner
  7:30          White Tara Practice Session
  9:30          Sleeping Yoga
Day 3 Sunday 23 January 2022
  5:00          Precept Ceremony
  6:00          White Tara Practice Session
  7:30          Breakfast
  8:30          White Tara Teaching
10:30          Tea Break
11:00          White Tara Practice Session
12:30          Lunch Break
  2:00          White Tara Teaching
  3:30          Break
  4:00          Question and Answer Session
  5:30          Break
  6:00          White Tara Practice Session followed by sharing session   
  8.00          Sleeping Yoga
Day 4 Monday 24 January 2022
  6.00          White Tara Practice Session
  7:30          Breakfast
  8.30          White Tara Teaching
10:30          Tea Break
11:00          Group Mudra (hand Gesture) Practice Session
12:30          Lunch Break
  2:00         Applying Quality of White Tara In Everyday Life
  3:30          Break
  4:00          White Tara Practice Session
  5:30          Break
  6:00          Dinner
  7:00         Q and A
  9:30          Sleeping Yoga
Day 5 Tuesday 25 January 2022
  6:00          White Tara Practice Session
  7:30          Breakfast
  8:30          Final White Tara Teaching
10:30          Tea Break
11:00          Avalokiteshvara and Tsog cum lunch
1:30          Retreat Finish
When
21st January, 2022 6:00 PM through 25th January, 2022 1:00 PM
Event Fee(s)
| | |
| --- | --- |
| Booking Options | |
| Shared ensuite room - up to 4 per room | $ 550.00 |
| Camping - byo tent or caravan | $ 450.00 |
| Twin/double - private room for 2 (rate per person) | $ 750.00 |
| Online Registration | $ 250.00 |
| Concession discount | $ -50.00 |
Event terms and conditions
| | |
| --- | --- |
| Enable terms and Conditions Acceptance | |
| | |
| --- | --- |
| Checkbox Position | Top profile |
| | |
| --- | --- |
| Checkbox text | I accept the Terms & Conditions |
| | |
| --- | --- |
| Terms and Conditions File | |
| | |
| --- | --- |
| Link Label | Terms & Conditions |
| | |
| --- | --- |
| Introduction | Please read and accept the terms &conditions and our Data Policy. |
Event Extra Details
| | |
| --- | --- |
| General Location | SIBA Retreat Centre, VIC |
| | |
| --- | --- |
| Teacher | Lama Choedak Rinpoche |