Intensive Tibetan Language Course 2021
Learning the Tibetan language is the key to understanding Tibetan Buddhism.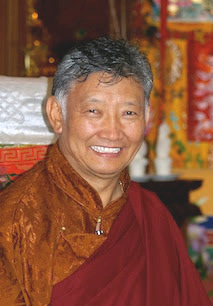 Learning Tibetan language gives insights into the Tibetan people, their way of life, their religion and history and also helps preserve their culture. People interested in Buddhism in the West have realized the importance of Tibetan language as it is the only language in which the complete Mahayana and Vajrayana Buddhist literature is preserved, 90 per cent of which has not yet been translated into English. Unlike Sanskrit, Tibetan is a living and progressive language spoken in many countries in the Himalayas.
This course is for all levels. Beginners will come away able to read the Tibetan script, construct short sentences, formulate tenses and have a reasonable vocabulary as a foundation upon which to develop their skills. Those already with some knowledge of Tibetan will receive expert guidance on the advanced aspects of the spoken language and translating.
Honoured with the title 'Lochen' (meaning 'Great Translator'), Lama Choedak Rinpoche is one of the most prominent Tibetan Buddhist translators currently living in the West and has been teaching the Tibetan language to Western students for the past 25 years. Rinpoche's 'Textbook of Tibetan Language', published by the Tibetan Buddhist Society of Canberra, is a comprehensive guide to learning the language and will comprise the material for this course.
Accommodation for the course is available at Virupa Retreat Centre - for more information on the options available please contact us at mail@sakya.com.au or call (02) 6238 2088.
This course will be held at our centre at the Grant Cameron Community Centre in Holder, ACT - see below for the address.
When
8th January, 2021 9:00 AM through 17th January, 2021 5:00 PM
Event Fee(s)
| | |
| --- | --- |
| Fee Options: | |
| 1 Day | $ 70.00 |
| 2 Days | $ 120.00 |
| 3 Days | $ 170.00 |
| 4 Days | $ 210.00 |
| 5 Days | $ 240.00 |
| 6 Days | $ 290.00 |
| 7 Days | $ 330.00 |
| 8 Days | $ 360.00 |
| 9 Days | $ 400.00 |
| 10 Days | $ 430.00 |
| 11 Days | $ 460.00 |
Event terms and conditions
| | |
| --- | --- |
| Enable terms and Conditions Acceptance | |
| | |
| --- | --- |
| Checkbox Position | Top profile |
| | |
| --- | --- |
| Checkbox text | I accept the Terms & Conditions |
| | |
| --- | --- |
| Terms and Conditions File | |
| | |
| --- | --- |
| Link Label | Terms & Conditions |
| | |
| --- | --- |
| Introduction | Please read and accept the terms &conditions and our Data Policy. |
Event Extra Details
| | |
| --- | --- |
| General Location | Tibetan Buddhist Society of Canberra, Holder ACT |
| | |
| --- | --- |
| Teacher | Lama Choedak Rinpoche |