ONLINE RETREAT: Annual Vajrayogini Retreat with Lama Choedak Rinpoche
Lama Choedak Rinpoche has once again kindly agreed to lead the annual Vajrayogini Retreat, which will be conducted online due to current world events. *Please note* You must have previously received the Vajrayogini Blessing to attend this retreat.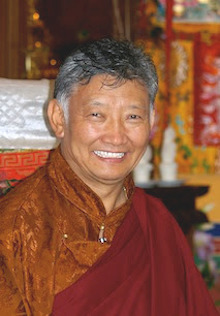 Dear Vajrayogini recipients,
We have now decided to offer the Vajrayogini Retreat online from Friday, 10 April - Monday 13 April 2020. The retreat was due to be postponed over the Easter weekend, however since the success of Lama Choedak Rinpoche's teaching the Complete Path Course over Zoom recently, it has proved to be very useful in supporting one another in practice in this volatile time. 
 
The Vajrayogini Retreat will take place online Friday, 10 April to Monday, 13 April each day from 9.00am - 5.00pm. There will be time for tea and lunch breaks throughout the day. 
 
Once you register, you will be given the link to click for attendance. As this retreat is for Vajrayogini initiates only, you will also be given a password to enter the sessions.
 

 Further details about this course are below:
All fortunate initiates of Vajrayogini have the excellent opportunity to boost their knowledge and experience of doing the famous eleven yogas of Vajrayogini practice according to Naropa lineage.
This annual Vajrayogini retreat is only offered by our centre in Australia. Lama Choedak Rinpoche is one of the few qualified Lamas to lead and teach this sacred practice. It is through Vajrayogini practice that most famous yogis have attained rainbow body.
Easter weekend is an excellent spiritual holiday to reflect and deepen one's spiritual development. Only initiates may attend this retreat. Do not miss out on this amazing opportunity!
Are you struggling financially and unable to pay the course fee? We may be able to assist you. Please contact us to discuss your options.
When
10th April, 2020 9:00 AM through 13th April, 2020 5:00 PM
Location
Online Workshop
Australia
Event Fee(s)
| | |
| --- | --- |
| General Admission | $ 200.00 |
| Members/Concession | $ 180.00 |
Event terms and conditions
| | |
| --- | --- |
| Enable terms and Conditions Acceptance | |
| | |
| --- | --- |
| Checkbox Position | Top profile |
| | |
| --- | --- |
| Checkbox text | I accept the Terms & Conditions |
| | |
| --- | --- |
| Terms and Conditions File | |
| | |
| --- | --- |
| Link Label | Terms & Conditions |
| | |
| --- | --- |
| Introduction | Please read and accept the terms &conditions and our Data Policy. |
Event Extra Details
| | |
| --- | --- |
| Teacher | Lama Choedak Rinpoche |