Rockhampton: The Complete Path 3rd Year Course at Ananda Buddhist Centre
The 3rd year of the entire path of the Buddha's teachings. In partnership with International Buddhist Academy, Nepal.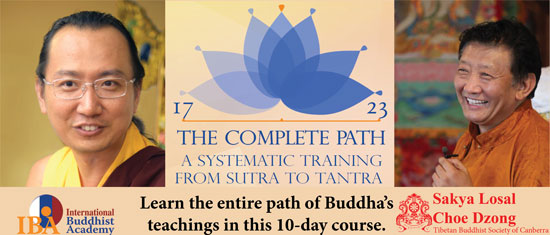 The International Buddhist Academy (IBA) in Kathmandu has launched a global training program that encompasses teaching the Buddhist path in the Sakya tradition in its entirety. Called The Complete Path, this unique course has been devised to provide Dharma practitioners of all levels of experience a systematic training focused mainly on the theory and practice of the Vajrayana path as transmitted by the founding masters of the Sakya school of Tibetan Buddhism. The full 7-year program is included in the diagram below.
In association with International Buddhist Academy in Kathmandu, Lama Choedak Rinpoche will be offering the 3rd Year Complete Path Course in Australia. (His Holiness 42nd Sakya Trizin has just completed giving the teachings the 3rd Year Course in Kathmandu.)
Due to the distance and wide network of many centres in Australia and to allow all who are interested to be able to participate this very important course, Rinpoche has also kindly agreed to allow this course to be attended by all who are interested including those who have attended the first two years or the LAMDRE JOCHAKMA in SIBA with HH Sakya Trizin in April or those who are completely new as it is so rare this course is taught in Australia.
How To Register:
All Bookings and inquiries are to go though Ananda Buddhist Centre: Please phone phone Irena on 0417 259 669 or Allan on 0417 091 727 or email info@anandabuddhist.com.au
Teachings: 9am - 5pm daily
Cost: TBA - Call Irena or Alan or email info@anandabuddhist.com.au to confirm prices and to discuss accomodation options. Discounts may be available for those experiencing genuine financial hardship but who still wish to attend.
A light lunch, morning and afternoon tea will be provided.

About the 3rd Year Complete Path:
The subject of the course is 'Ngondro: The Preliminary Practices of Tibetan Buddhism'. The textbook for the course is Lama Ngaklo Rinpoche's monumental commentary on the topic Clear Lamp On The Path Of Liberation.
Note: The books will be available at the centre when you arrive but it is recommended that all course participants order their copy of the textbook in advance (Hard cover with Jacket 684 pages) $60 excluding postage. To make your order of the textbook contact Tim Perera via email at timothy.perera@gmail.com
The translation and publication of this book has been especially prepared for this course, although Rinpoche started the actual translation some twenty years ago. This is like the 'Bible' of Tibetan Buddhism as it covers all the fundamental topics and concepts of Buddhism and all of its core practices. The book combines all the subjects that are in the textbook of 2nd and 3rd Year of the Complete Path Courses.
The 3rd Year Course has the unique feature of Tibetan Buddhism and its devotional practices, so that Buddhism is not reduced to a mere intellectual exercise as if it does not have any beliefs or religious practices.
All participants need to purchase a Mandala offering set, which consist of a 5 piece bronze or other metal set. Please contact Irena at info@anandabuddhist.com.au if you need a mandala set and she can assist you getting one.
Where The Course Will Be Held:
Rinpoche will be teaching this 3rd Year's Course at two places and dates as shown below. Please book and contact the relevant centres especially if you need to be billeted in Rockhampton.
CANBERRA
27 December 2019- 5 January 2020
9.00am - 5.00pm
Virupa Retreat Centre
179 Douglas Close,
Carwoola NSW 2620

ROCKHAMPTON
27 March 2020 - 5 April 2020
9.00am - 5.00pm
Ananda Buddhist Centre
*Note: the page you are on now is for the Rockhampton event. To book for the Canberra event, click here>>
Optional Preparation For New Students: Year 1 Online Course:
If you wish to study the material from year 1 (optional), an online course is available as a substitute if you were unable to attend the Year 1 teaching on Clarifying the Sage's Intent. For details, click on this link:
http://internationalbuddhistacademy.org/2018-2/online-course-for-tcp-year-1-available-in-english-and-chinese/
Course Certificate:
At the end of each year's course, participants who have completed all previous years will receive a certificate (note that you can still attend this year of the course regardless). A special certificate will be awarded to participants for completion of the full 7-year program.
Teachings: 9am - 5pm each day.
WATCH: His Holiness 41st Sakya Trizin introduces The Complete Path Course
WATCH: His Holiness 42nd Sakya Trizin introduces The Complete Path Course
7 Year Teaching Plan: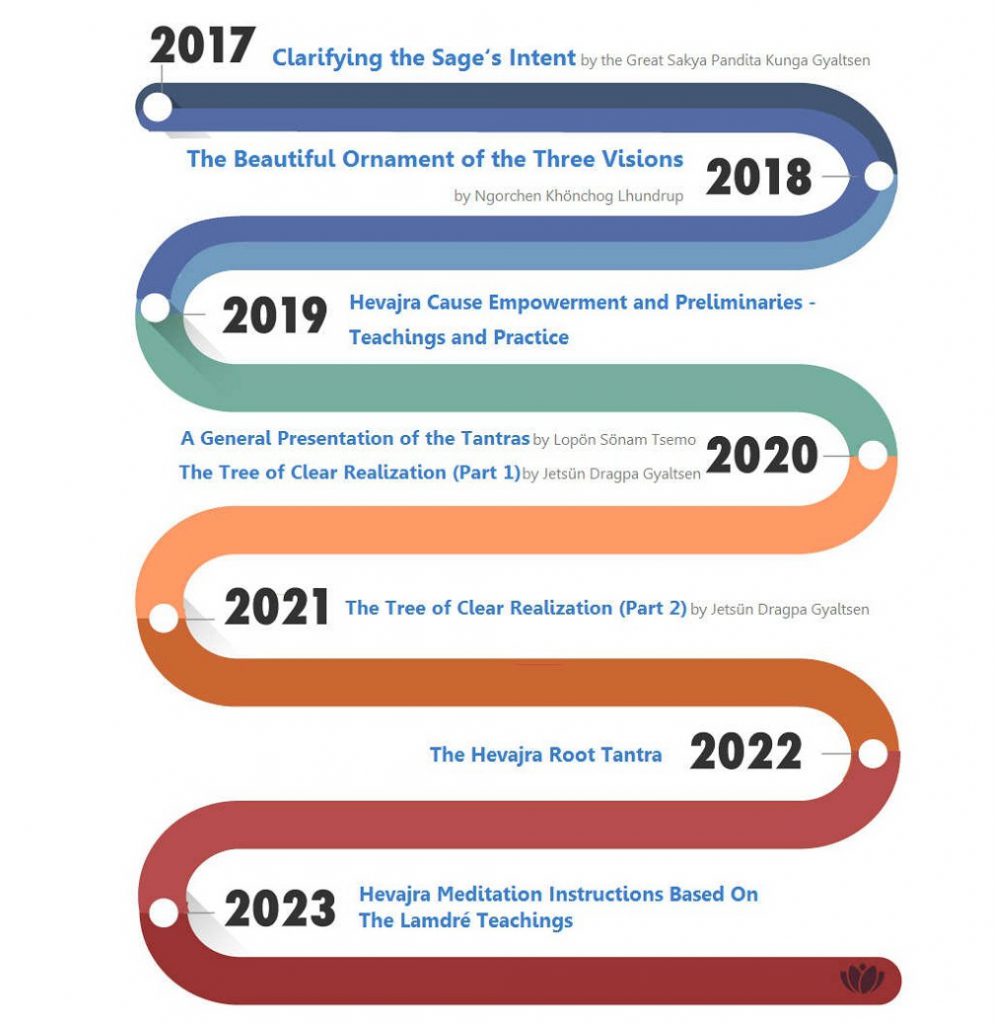 When
27th March, 2020 9:00 AM through 5th April, 2020 5:00 PM
Location
Mt Archer Lions Club Hall




42/156 Hinchliff St




Kiawana

,

4701




QLD

,

Australia
Event terms and conditions
| | |
| --- | --- |
| Enable terms and Conditions Acceptance | |
| | |
| --- | --- |
| Checkbox Position | Top profile |
| | |
| --- | --- |
| Checkbox text | I accept the Terms & Conditions |
| | |
| --- | --- |
| Terms and Conditions File | |
| | |
| --- | --- |
| Link Label | Terms & Conditions |
| | |
| --- | --- |
| Introduction | Please read and accept the terms &conditions and our Data Policy. |
Event Extra Details
| | |
| --- | --- |
| Teacher | Lama Choedak Rinpoche |