Free Public Talk With Dupseng Rinpoche: The Sutra of Recollecting The Triple Gem
Dupseng Rinpoche is one of the most highly regarded Tibetan Buddhist teachers worldwide. He will be coming to Virupa Retreat Centre for this very special public talk, elucidating the profound meaning of one of the most important Buddhist prayers.
About Dupseng Rinpoche: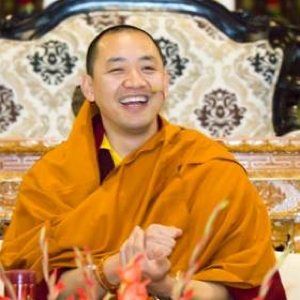 Dupseng Rinpoche is first and foremost a vajra master guiding his students, both monastic and lay, in their practice of the Buddhadharma through all levels.
For his monastic students' intensive development, he is the retreat master responsible for the Karma Kagyu traditional three-year-three-months retreat at Karma Ngedon Palbar Ling Retreat Center, Sarangkot, Nepal. For his lay students Rinpoche has been traveling and teaching for years, holding group retreats and guiding smaller and larger groups in shorter and longer retreats. In 2018, a long-held aspiration finally bore fruit, and a retreat program for lay yogis based on the curriculum of the traditional three-year-three-months retreat was launched.
It is Rinpoche's aspiration to guide his lay students to the same accomplishments as the traditional lamas, in a program tailored to the conditions of modern life. The program is available through regular events Rinpoche holds in Thailand, Nepal, Denmark, and in the future possibly Germany.
Throughout his past two lives, Rinpoche has been dedicating his activities to deep practice in retreat, and in this life he is continuing this great work.
Rinpoche studied under numerous masters in Pokhara, Nepal, including Lama Khedup, Lama Dupten and Khenpo Ngedon. At the age of 14, Rinpoche joined Vikrama Shilla Buddhist Institute and graduated in the year of 2001, obtaining a Bachelors degree in Buddhist Philosophy.
In 2001, Rinpoche went to Kalimpong for further studies under Professor Sempa Dorje. At the same time Rinpoche did some correspondence courses from Delhi University in order to get admission into Cambridge University.
In 2003 Rinpoche joined the Cambridge University in the United Kingdom to study English Literature and Theology. Rinpoche completed English Language and Literature studies and graduated with a Master degree in Theology in 2007.
During his studies, Rinpoche received many teachings, oral transmissions, empowerments and did many retreats under one of his gurus, the late Ven. Bokar Rinpoche and late Ven. Lama Kunkyab. Dupseng Rinpoche also made a six Naro Yoga and Vajra Varahi retreat at Le Bost in France. This retreat was guided by the experienced master Kenchen Trinley Paljor Rinpoche, who also transmitted many initiations and oral transmissions.
From 2008 to 2011, Rinpoche entered the traditional Karma Kagyu three year and three month retreat under the guidance of Ven. Lama Sherap Gyaltsen Rinpoche in Karma Ngedon Palbar Ling Retreat center at Sarangkot Mountain, in Pokhara.
Rinpoche also received various transmissions from great masters such as Kalachakra from His Holiness the 14th Dalai Lama at Drepung Monastery, Kagyu Ngagzog from HH Shamar Rinpoche in Delhi, and Do Joe Bum Zang and Dudjom Chokhor from His Holiness the late Trulshig Rinpoche in Kathmandu.
Besides the activities as retreat master Rinpoche also takes care of Jangchub Choling Monastery, Vikrama Shilla Buddhist Institute, Dupgyud Choling Monastery, with a total of 160 monks, as well as Kagyu Institute for Buddhist studies and Tharpa Choling nunnery in Muktinath, with 48 nuns.
Additionally, Rinpoche is often invited by his disciples and students to Australia, East and West Europe, USA, South America and Canada in order to teach all level of Buddha dharma, which is the source of momentary and ultimate happiness. He has already taught in more than a hundred countries, which caused His Holiness the Dalai Lama in a meeting with Rinpoche in 2012 to remark, 'oh, you've traveled more than me — quite surprising for one so young.'
Please join us for this incredible opportunity to hear teachings directly from a genuine master of Tibetan Buddhism.
About this Event:
Attendance is free to this event, however if you would like to receive a delicious vegetarian lunch it will cost $15 for the meal.
It is encouraged that you make an offering to the teacher in accordance with tradition, in a sealed envelope along with a khata (silk scarve) - please prepare this in advance of attending the talk. If you need a khata scarf, there are some available for sale in the Dharma shop at Virupa.
When
26th October, 2019 10:00 AM through 2:00 PM
Location
Virupa Retreat Centre




179 Douglas Close




Carwoola

,

2620




NSW

,

Australia
Ticket Prices:
| | |
| --- | --- |
| Public Talk | $ 0.00 |
| Contribution for Vegetarian Lunch | $ 15.00 |
Event terms and conditions
| | |
| --- | --- |
| Enable terms and Conditions Acceptance | |
| | |
| --- | --- |
| Checkbox Position | Top profile |
| | |
| --- | --- |
| Checkbox text | I accept the Terms & Conditions |
| | |
| --- | --- |
| Terms and Conditions File | |
| | |
| --- | --- |
| Link Label | Terms & Conditions |
| | |
| --- | --- |
| Introduction | Please read and accept the terms &conditions and our Data Policy. |
Event Extra Details
| | |
| --- | --- |
| General Location | Virupa Retreat Centre, NSW |