SPECIAL EVENT: Vajrayogini Blessings and Teachings with H.H. The 42nd Sakya Trizin
We are delighted to announce that His Holiness the 42nd Sakya Trizin will bestow the Vajrayogini Blessing and teachings at Virupa Retreat Centre over the Easter Long Weekend in April 2019.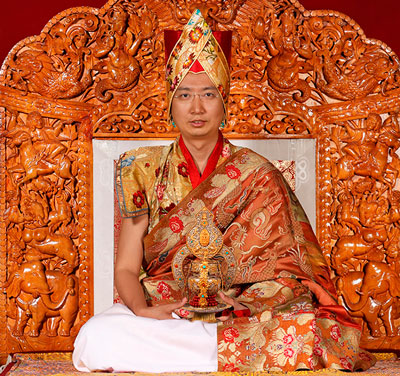 If you wish to join in this special event, click this link to make your booking.
During this event, His Holiness will first give the Chakrasamvara empowerment to enable people to receive the Vajrayogini Blessing and teaching.
Vajrayogini is one of the highest Tibetan Buddhist deity yoga meditation practices, which has produced many realised masters who have attained rainbow body. All Vajrayogini practices and its profound whispered lineage practices have been drawn from Chakrasamvara, the Highest Yoga tantra. The Naropa lineage of Vajrayogini is the most famous of all, the other two being Maitripa and Indrabhuti. Naropa transmitted to the two Phamthingpa brothers of Nepal, through whom this lineage has spread in the Sakyapa lineage.
It has since been taught, protected and transmitted in an unbroken lineage in Tibet by the Tsarpa lineage of the Sakya order of Tibetan Buddhism. The founder of this lineage, Tsharchen Losal Gyatso (1502-1566) had the most inspiring experience with Vajrayogini, guiding him through his spiritual practice.
Though its sheer profundity and benefits, it is a practice that has spread to other Tibetan lineages, including the Gelukpa lineage. Just as within the Sakya schools, these great lineages have produced masters and saints who gained spiritual realisation and attained the rainbow body of enlightenment through the practice of Vajrayogini.
When we understand these divine blessings of the Vajrayogini lineage, we realise that the merit of doing Vajrayogini practice is unfathomable. Lama Choedak Rinpoche has said that, "It is because of this practice [Vajrayogini] that we have established centres, invited lineage gurus, received empowerments and supported practitioners to do retreats like this one."
Vajrayogini in Australia
His Holiness the 41st Sakya Trizin first gave the Vajrayogini empowerment and teachings in 1988 in Galston near Hornsby, and then in 2003 in Canberra. The Vajrayogini empowerment was also given in Australia by His Eminence Kyabje Chogye Trichen Rinpoche, Her Eminence Jetsun Kusho-la and His Eminence Luding Khen Rinpoche. Since these empowerments and teachings were bestowed, the Tibetan Buddhist Society of Canberra has conducted annual Vajrayogini teaching and practice retreats at Virupa Retreat Centre since 2004. A number of practitioners have also completed the long Vajrayogini retreat.
Now, Vajrayogini teachings and empowerments will be imparted directly in English by His Holiness the 42nd Sakya Trizin, Ratna Vajra Rinpoche. It is also the first time His Holiness will be bestowing the Vajrayogini Blessing as well as teachings on the sadhana. Merit must be accumulated and created collectively to enable the continuation of these gifts.
Please see below for all the information you need to be a part of making these blessings a reality.
---
FURTHER INFORMATION
One must have received the Chakrasamvara or Anuttarayoga Tantra Empowerment in order to receive the Vajrayogini Blessing. As such His Holiness will bestow the Chakrasamvara Empowerment on the 18th and 19th April, so that people can receive the Vajrayogini Blessing on the 20th April.
Only by attending the Vajrayogini Blessing, one can attend subsequent Vajrayogini retreats conducted in Canberra each year.
Don't miss out on this rare and special opportunity to receive blessings from His Holiness! If you book before 9 March 2019, you will receive an 'early bird' discount!
Become a Benefactor
It is a very meritorious tradition to become a benefactor for this special event. Becoming a benefactor contributes to the smooth running of this event, and provides funds for those who may have financial difficulty in attending. Please click here for more details on how to become a benefactor>>>
We aim to make our pricing as inclusive as possible. There is a substantial discount for ordained Sangha members. Please contact us at mail@sakya.com.au for details. Also, please contact us if you are in financial hardship and we will do our best to make sure you can attend.
The Vajrayogini Sadhana teaching days (21 & 22 April) will include a vegetarian lunch. A dairy-free and gluten-free option will be available, but due to the large number of guests we are unable to cater for further dietary requirements.
Unfortunately, there will be no residential accommodation or camping available at Virupa Retreat Centre during the Vajrayogini retreat and teachings. However there are many options available in nearby Queanbeyan, NSW (20 minutes drive away) or Canberra, ACT (30 - 40 minutes drive away).
Carpooling can be arranged. Please contact us at mail@sakya.com.au if you require any assistance.
Cost: $500 for the five days (18 - 22 April 2019)
There is also a $50 members/concessions discount & a $50 early-bird discount if you book before 9 March 2019.
When
18th April, 2019 3:00 PM through 22nd April, 2019 5:30 PM
Location
Virupa Retreat Centre




179 Douglas Close




Carwoola

,

2620




NSW

,

Australia
Event Fee(s):
| | |
| --- | --- |
| 5 Day Vajrayogini Blessings and Teachings | $ 500.00 |
| Member/Concession Discount | $ -50.00 |
| Would you like to become a benefactor for His Holiness Sakya Trizin's visit? | |
| Bronze Benefactor | $ 200.00 |
| Silver Benefactor | $ 400.00 |
| Gold Benefactor | $ 1,000.00 |
| Platinum Benefactor | $ 5,000.00 |
Event terms and conditions
| | |
| --- | --- |
| Enable terms and Conditions Acceptance | |
| | |
| --- | --- |
| Checkbox Position | Top profile |
| | |
| --- | --- |
| Checkbox text | I accept the Terms & Conditions |
| | |
| --- | --- |
| Terms and Conditions File | |
| | |
| --- | --- |
| Link Label | Terms & Conditions |
| | |
| --- | --- |
| Introduction | Please read and accept the terms &conditions and our Data Policy. |
Event Extra Details
| | |
| --- | --- |
| General Location | Virupa Retreat Centre, NSW |
| | |
| --- | --- |
| Teacher | His Holiness the 42nd Sakya Trizin |